Stonewool vs. Coco in Soilless Tomato Cultivation.
Caté, the renowned applied research station in Saint Pol de Léon, situated at the heart of Brittany's thriving vegetable and horticultural region, has concluded a series of comprehensive comparative trials focusing on stonewool and coco growing media for soilless tomato cultivation. The trials, spanning multiple seasons, have yielded remarkable insights into the agronomic, environmental, and economic advantages of these two media.
The trials, conducted over the course of almost three years, were orchestrated in partnership with Grodan. The tests aimed to investigate the performance of stonewool and coir-based growing media in enhancing tomato cultivation, focusing on factors such as yield, volume, quality, water efficiency, and disease management.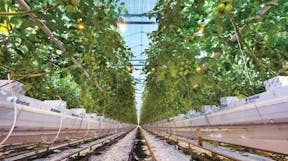 Read The Best Practice Guidelines for Greenhouse Water Management
The guide has been written to provide greenhouse owners and managers with an overview of current best practice.