While the industry is well on its way to become circular, there are a few bottlenecks we still need to overcome if we want to truly close our production cycles. The sector's main challenge is to manage the in- and outgoing (material) flows in the greenhouse, including those of fertilizers and CO₂. Additionally, greenhouses also have high energy needs and too much plastic is currently being used and thrown away in the sector. How can we overcome these bottlenecks?
In this Food Forward we discuss the bottlenecks and possible solutions for this transition with three experts from the sector: dr. Wouter Verkerke, senior scientific researcher at the Business Unit Horticulture at the Wageningen University & Research (WUR), Peter Spoor, Director Applications and Development at Grodan and Sander van Golberdinge, Public Affairs Manager at Grodan. They also discuss new research and opportunities in the sector, including the potential use of micro-organisms and organic growing solutions in rootzones, the development of the ingredient farm and the cultivation of strawberries and lettuce in the greenhouse.
Download the latest Food Forward to learn more.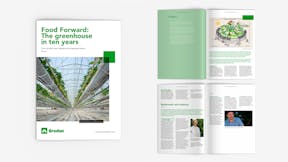 Food Forward: The greenhouse in ten years
The horticultural sector is already a pioneer when it comes to sustainable, clean and safe food production. But how is the sector going to make the transition to a fully circular production system in the coming ten years?