When Kwekerij Moors was founded by Rob's father, Piet, in 1974, it initially produced open-field crops. The first greenhouse was built on half a hectare in the early 1980s to grow lettuces in the winter and gherkins and subsequently tomatoes in the summer. In the late 1980s the company switched to pepper cultivation and the production area has been gradually expanded ever since. Rob joined his father in 1998 and took over the company – together with his wife Hannie – around a decade later.
Today, Kwekerij Moors has two sites close to Eindhoven: in Someren and Asten. Following the addition of a 5-hectare greenhouse in Asten in 2019, the total production area currently amounts to 19 hectares and an average annual yield of 33kg/m2. The company has between 50 and 80 employees working across its two locations, depending on the time of year.
The company produces red and yellow bell peppers all year round. "The young plants arrive in December and the fruit setting starts in January," says Rob. "The first peppers are ready for harvesting in April and the season runs until November. We then have a few weeks to completely empty and clean the greenhouse before the next cycle."
Since 2014, the company's products have been sold through Van Oers United. "We were keen to move away from bulk and focus more on the top segment," continues Rob. "Van Oers is both a producer and a supplier that works in close partnership with selected growers to guarantee its customers a year-round supply of high-quality fresh vegetables. Now, our peppers are exported to major supermarket chains – particularly in Scandinavia, but also throughout the whole of Europe."
Continuous trials
This focus on the top segment makes product quality very important for Rob. "We grow everything on Grodan stone wool – they have been our sole supplier since the late 1990s and provide the best quality in our opinion. In fact, we even request our supplier of young plants to propagate them in Grodan Next Gen 2.0 stone wool blocks. When the plants arrive at around 35-45 days old, we transfer them straight onto our Grodan Supreme stone wool slabs," he explains. "We ran some trials with other types, but we discovered that this gives the plants the best start. So everything is now aligned – it's Grodan from start to finish."
Kwekerij Moors mainly uses stone wool blocks with a standard height of 6.5 cm. "But we've also got some 7.5 cm blocks based on the positive results from one of our trials. We're always trying different ideas and Grodan is always very supportive when we do," states Rob. "Right now, we're running a trial to see whether reducing the depth of the dripper hole to 1 cm instead of the standard 2 cm will make the moisture distribution even better."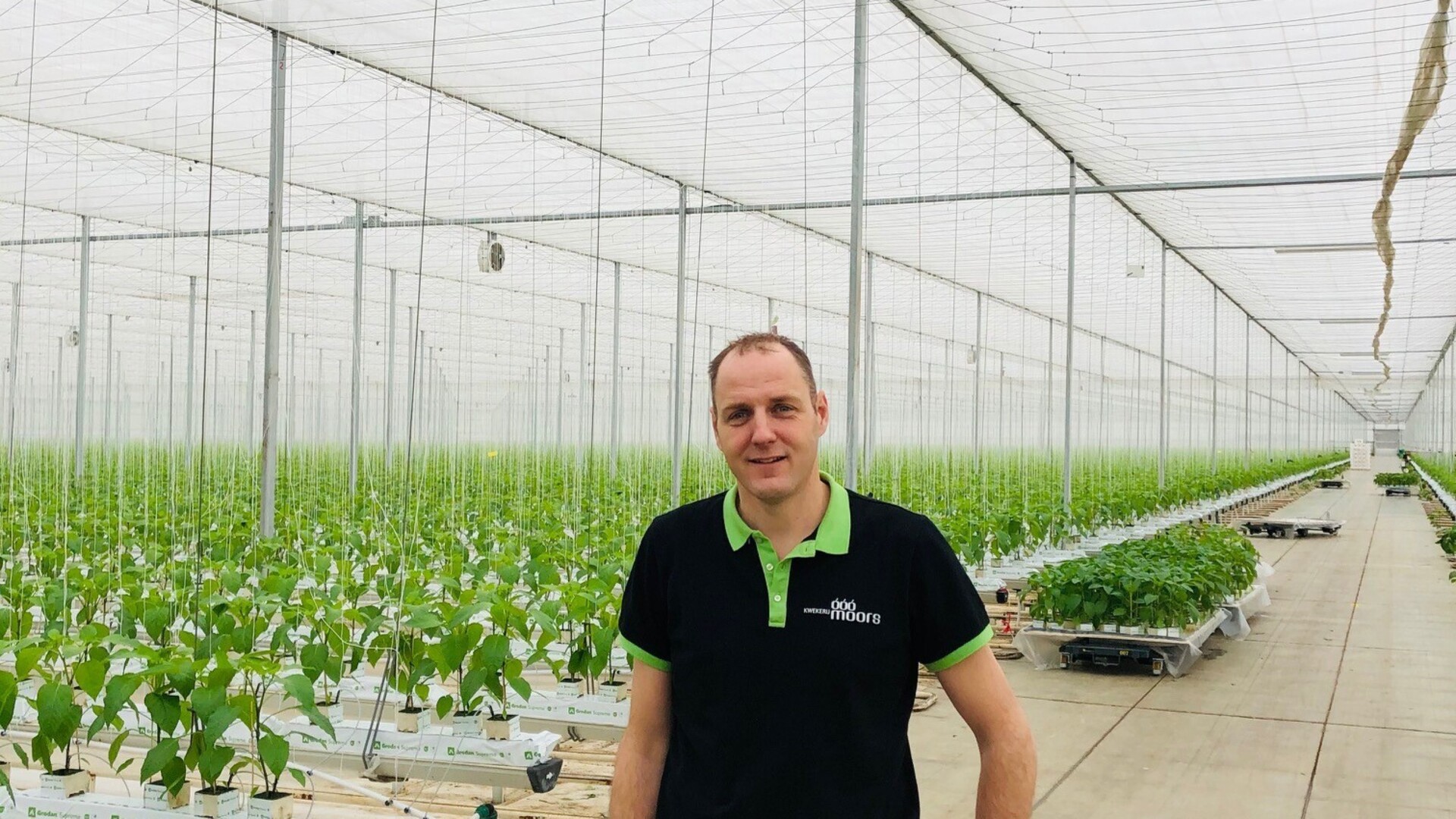 Optimal root environment
"Grodan isn't just a supplier of high-quality substrate. The company is also very active and forward-thinking in helping us to get the most out of the growing media by creating the optimal root environment," he comments. "For example, the GroSens sensors allow us to monitor with ever-increasing accuracy exactly what's going on in the root zone in terms of moisture content, EC and temperature. We're currently experimenting with fungi and bacteria in the root zone. They are not all bad – some of them are actually beneficial, but too much moisture can damage the good ones and allow the bad ones to thrive. Grodan enables us to constantly measure the water content as we try to find the right balance. And we can access the results through the e-Gro data platform, which is connected to our Priva climate computer."
In today's era of 'big data', it can be a challenge to know what to do with all the data generated. Rob: "Grodan sends us advice every few weeks and a crop advisor visits us a couple of times a year to discuss the data and help us to identify further efficiency improvements."
Sustainability
As expressed by one of the three company mottos ('Groen in doen'), sustainability is extremely important to Kwekerij Moors. For example, the company has 'Groen Label Kas', GlobalGap and PlanetProof certifications. "Nowadays, it's pretty much essential to demonstrate your commitment to sustainability because public opinion is changing and consumers – and hence supermarkets – increasingly expect or even demand it," explains Rob. "For instance, we try to avoid using chemical crop protection agents as much as possible, but we suffer quite a few problems with insects so we can't use 100% integrated pest management. In fact, due to the warmer weather we're noticing new sorts of pests such as the Nezara viridula that can't be tackled biologically because they don't have natural enemies. That's another reason that the root zone is so important; strong roots are the foundation of crop growth and help to give plants the vitality they need for better resistance against pests and diseases – so a good substrate is vitally important."
"We're continuously looking at new ways to minimize or re-use our waste flows, and that means working in close collaboration with partners. Growers nearly always tend to overwater the plants, for instance, so Grodan's solutions help us to both save money and reduce our environmental footprint by critically monitoring our water usage and avoiding the waste of nutrients. After all, the data doesn't lie!" he adds.
Recycled material
One example of how the grower is trying to re-use waste flows and switch to green energy is with a biomass fuel plant. Rob: "Ideally, we hope that we turn all our pepper plants into biofuel at the end of each season, rather than composting them as we do now." He regards Grodan as a good fit with his company's sustainability ambitions. "They have been collecting our used stone wool slabs and blocks at the end of each season for years, of course, so that the stone wool – which is a natural material – can be recovered and recycled to make bricks. And our newest project is a trial to test Grodan's substrate wrapped in recycled material; we've literally just transferred the young plants to the trial blocks. We're hoping to achieve the same crop performance, and we're looking forward to evaluating the results with Grodan at the end of this season. Hopefully this will prove to be another way to improve sustainability without compromising on quality, efficiency and profitability," he concludes.