At Grodan, we believe that the greenhouse horticultural sector plays a leading role in the efficient, safe and local production of healthy and sustainable food, now and in the future. The future of our global food system and the role of the high-tech greenhouse will only become a reality when we exchange plenty of ideas about promising developments and innovations in the horticultural sector. That's why our colleagues went into the podcast studio for the first time to talk to partners about five promising developments in our sector. The result? Our very first podcast series: "Growing a better future", in collaboration with the Radiofabriek.
The podcast series was hosted by the Radiofabriek and developed by Dennis Arnts, Area Marketing Manager for Northern & Western Europe. He explains: "At Grodan we think it is important to always look for cooperation with other parties, in which Grodan mainly has a facilitating role. In doing so, we play a prominent role in enabling knowledge exchange within and outside the sector, and we make listeners enthusiastic about our sector."
Five episodes
The series consists of five episodes of 20 minutes each:
In "Medical crops, business & education" colleague Rob Kwinten talks to Arno Hazenkamp, Board Member of the Legal Cannabis Coalition about developments, challenges, solutions, and the future of medicinal crops.
"The increasing demand for circularity" is about circular sustainability for greenhouses, such as the reduction of plastic and reusing fossil fuels in the greenhouse. You will hear colleague Sander van Golberdingen in conversation with Alexander Boedijn, researcher in Greenhouse Horticulture Technology at Wageningen University & Research.
Colleague Joyce Rasquin talks about the developments, challenges, solutions and future of the strawberry sector in "The strawberry sector is on the move" together with Johanna Bac-Molenaar, researcher Plant Health at Wageningen University & Research.
The episode "Data" is mainly aimed at young growers, where Grodan's e-Gro colleagues Emilia Bosak & Paulina Florax talk about how data contributes to optimizing the cultivation process.
Colleague Peter Spoor and Jan Westra, Strategic Business Developer at Priva, specialized in smart climate control for buildings and horticulture, discuss the latest developments around "Sensoring".
All episodes are recorded in English and the "data" episode is also recorded in Dutch. Dennis: "Almost half of the Dutch population listens to a podcast once in a while, according to research by Markteffect in December 2021. We therefore expect that this concept will catch on with our target audience and that it will be an invitation to create more podcasts."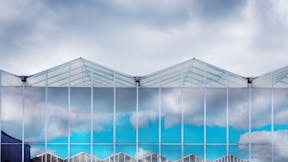 Listen now
You can listen to Grodan's podcasts via well-known media platforms such as Soundcloud, Spotify and Apple (search for "Grodan").