About the Dashboard Module
In order to improve crop yield and quality you must have a targeted water and nutrient supply strategy. This can be achieved by accurately steering substrate water content (WC), the rootzone temperature and the electrical conductivity (EC) in line with the incumbent climatic conditions and generative / vegetative plant balance. This release will answer questions that may be keeping you up at night: Is my irrigation strategy being implemented properly? Is this the best strategy for optimum growing? How much should I water and when? With our improved dashboard growers will now have a quick and easy overview of their applied irrigation strategy on a daily basis. Next to this, the dashboard gives quick insights into the status of the plants. This helps you to figure out if you are heading in the right direction with your chosen growing strategy, while always remaining mindful of the constantly changing conditions.
The dashboard is built up in actuals (what is happening), trends (what has happened) and projections (what will happen) and advice. All facets on your dashboard show you where and how you need to steer your crop, whether it be vegetative, generative or neutral.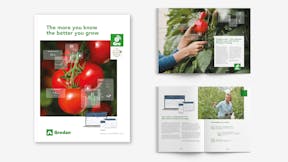 The more you know, the better you grow
Discover e-Gro – The ultimate software platform for datadriven Precision Growing