This young, Brittany-based tomato producer has chosen to produce great-tasting tomatoes by using suitable varieties and varieties with high levels of electrical conductivity (EC). For each of the varieties that he grows, he must define the best balance between the generative and vegetative parts of the plant. For him, monitoring crop data is essential.
In 2020, Jordan Hascoet decided to follow in his parents' footsteps. They established their business in 1989 when they built the first greenhouses in Cléder in the Finistère department. They gradually started specialising in the production of tomatoes and strawberries which were then sold by the Prince de Bretagne cooperative. Jordan had always been by his parents' side to offer a helping hand, or two! He started working at the business as a salaried employee in 2012 before officially taking over the reins 2 years ago. Today the company has 4.5 ha of greenhouse space, 3.3 ha of which are devoted to tomatoes. The rest is mainly used for strawberry production with a few other crops for diversification (raspberry, mini peppers, etc.). The amount of space taken up by strawberries has been reduced significantly in recent years as it is a very labour-intensive crop.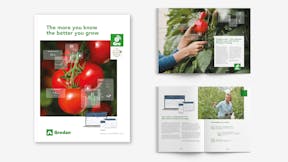 Download the e-Gro brochure
Grodan offers e-Gro, the revolutionary software platform that allows you to collect and combine the relevant data from your greenhouse and translate it into real-time insights for data-driven Precision Growing.