The need for a more sustainable food system
As the world's population continues to grow, natural resources are becoming increasingly scarce. Let's have a look at opportunities to ensure plentiful, healthy food production and availability.
10 billion people in 2025
Currently, there are almost 8 billion people on earth and in 2025 there will be another 2 billion. That means we need to produce 50% more food than we did in 2012 to have enough for everyone. Moreover, soil is degrading 10 to 100 times faster than recovery can take place. Controlled Environment Agriculture (CEA), such as growing in high-tech greenhouses, actually contributes to a sustainable supply of fresh and healthy food for people in urban environments and beyond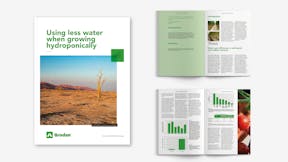 Using less water when growing hydroponically
Water scarcity is one of the global challenges. The problem of water scarcity is a growing one. Water use has been growing at more than twice the rate of population increase in the last century. Food and agriculture are the largest consumers of water. As more people put ever increasing demands on limited supplies, the cost and effort to build or even maintain access to water will increase.