Jeroen Geven first became involved in cucumber production at the age of just 13. Nowadays, he is co-owner, crop manager and, as he describes himself, "jack of all trades", at Jevero BV. The 3 ha cucumber production company was founded in 2010 in Rijkevoort, a village close to Boxmeer in the Dutch province of Brabant. "Our company mission is to produce fresh and tasty cucumbers. For us, it's not just about the yield; the quality is important too," states Geven. "We have around 20 full-time employees, but the team can be as small as just six in the winter, and then we have a lot of seasonal workers – mainly local teenagers and students – in the peak months," he continues. "Because we're such a small company, we have a very flat hierarchy and my own role is very broad, ranging from purchasing to HR issues as well as managing the greenhouse. I spend at least 90% of my time on-site."
Cooperative of 30 growers
In addition to the greenhouse, the company has its own sorting and packing operation. "We're a member of a cooperative of around 30 cucumber growers, so the cooperative takes care of sales and marketing activities for us. Some of our products are sold through dealers and others are supplied directly to supermarkets – not just in the Netherlands, but also to countries such as the UK and Germany," says Geven.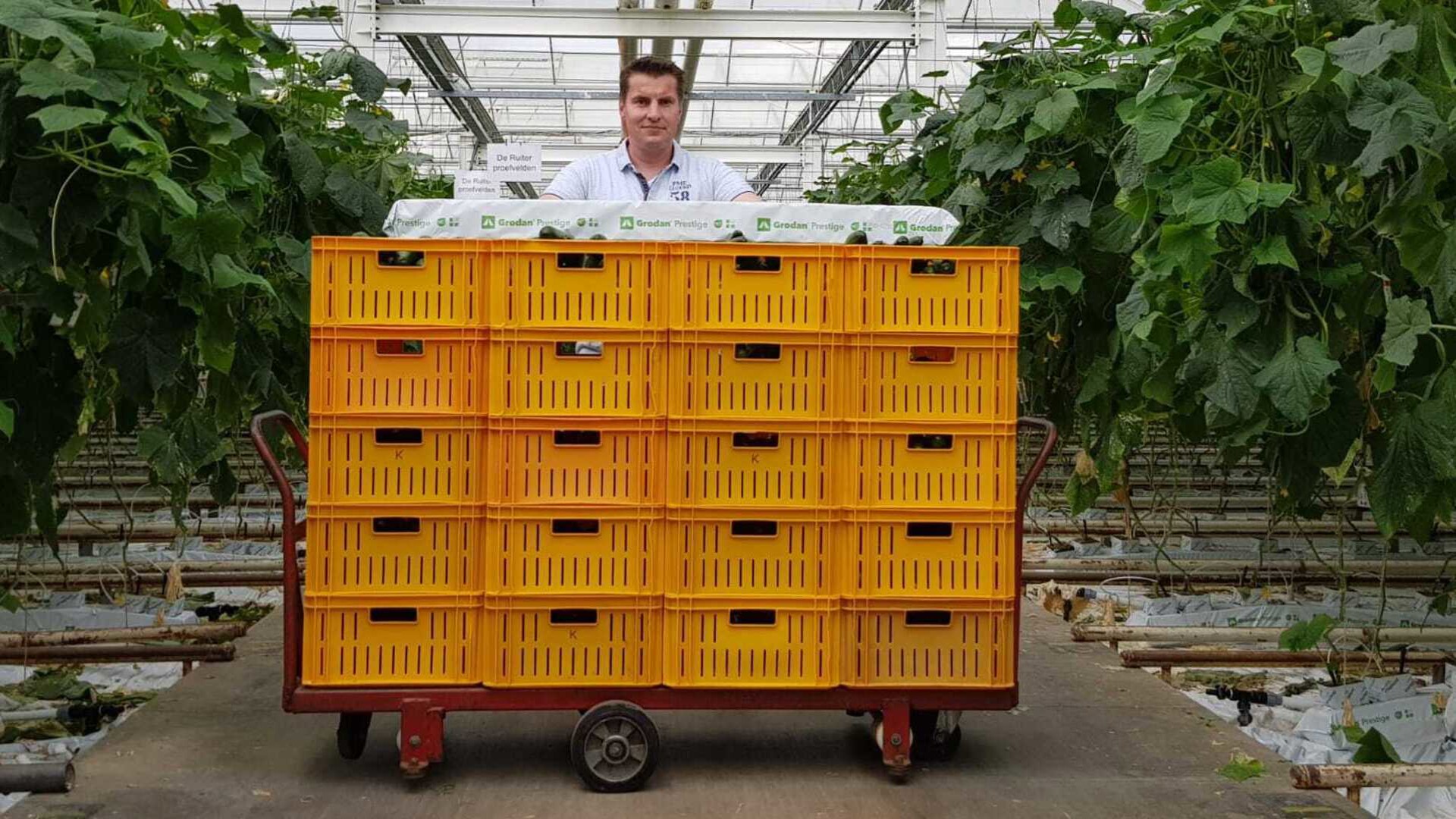 Three crop cycles
Jevero BV works with three crop cycles: spring, summer and autumn. "This year, we started planting the Proloog RZ variety on 18 January for our spring cycle, and we harvested the first cucumbers on 20 February," he explains. "We will change over in May, and again in August, to Sumapol for both the summer and autumn cycles. That will take us through to early November. Our average annual production is 180 cucumbers per square metre."
Single-year stonewool slabs
The company has been working with stonewool slabs from Grodan for the past seven years. "Initially we worked with reusable stonewool substrates but they had to be steamed at the end of each season and then stored until the next year. We realized that this increased the risk of mottle mosaic virus, plus it was very time-consuming. So we were looking for a single-year slab. The Grodan Master came highly recommended – Grodan has a strong reputation for quality, of course – and we immediately noticed a big reduction in the level of disease when we started using those 7.5cm slabs," recalls Geven. "At the start of last year, we switched again, this time to the 10cm Grodan Prestige, so this is our second season using it. I wanted a slightly drier substrate, which is why 10cm suits us better. It's always a fine balancing act between oxygen and moisture in the slab – you can't have both! But this slab makes it easier to find the right combination for healthy roots," he observes.
Extreme summer
The summer of 2019 was particularly challenging due to a prolonged period with record-breaking temperatures across Europe. "We suffered some root damage last year due to the extreme heat, of course," says Geven. "But I like to think that the Prestige slab helped us to perform better during that summer than we would have done otherwise. In terms of the performance so far this year, the root development has gone really well – the roots were nice and firm in the slab after just four or five days."
The Prestige slab makes it easier for growers to control the EC and WC values. "At the start of the spring cycle, we fill the slab with water so that the water content is really high. Then we gradually allow the moisture to drop to the right level for good root development. Thanks to the GroSens sensors that precisely measure the EC, WC and temperature in the slab continuously, we can carefully control the start/stop times for irrigation," he explains. "I want to have a bit more moisture in the slab when the cucumbers start setting, so as we head towards production we raise the water content very slightly, but not too much. For me as a grower, I still like to use my own eyes and fingers to closely monitor what's going on with the crop, but the sensors in the slab are definitely a very valuable extra tool. In the past, I was struggling with root diseases such as Pythium, and the moisture level is key in creating the right conditions for healthy roots. Now that I've got tighter control over the root zone, the crop has a lot of vitality and its resistance is noticeably better. In fact, we haven't had any problems at all with diseases so far this year, so we're on track for a nice uniform crop and a bigger yield of high-quality cucumbers."
Supportive partnership
Grodan's support is also very valuable, according to Geven. "We have a very pleasant partnership with Grodan. They keep us well informed and the aftersales service is very good. Our contact person visits us several times a year so that we can review the strategy together. He monitors how we're doing and makes proactive suggestions for possible improvements. They know all about how roots grow, so it's always useful to hear their insights, including based on other growers' experiences," he concludes.