Simon Hansen has been production manager, grower and, in his own words, "Wizard of Oz" at Norwegian tomato producer Miljøgartneriet A.S. since 2011. "Miljøgartneriet had been going for just a couple of years and needed someone with experience in tomatoes and peppers," says Hansen. "I'd been growing tomatoes in Denmark for over 17 years, and have been in horticulture since the mid-1990s. My brother is also a high-tech grower, I guess it runs in the family!" He agreed to move to Norway to work for the company.
At 8 hectares, Miljøgartneriet is the biggest greenhouse facility in the whole of Norway. It produces tomatoes on 7 ha, plus 1 ha of Sweet Palermo pointed peppers and some chilis. "We're actually the first and so far the only player in Norway to grow sweet snack peppers. But our main activity is tomatoes. We produce all kinds: round, truss, cherry tomatoes and mini tomatoes on the vine. Such a broad product range is typical in Scandinavia, because the supermarkets prefer to work with one-stop-shop suppliers who can offer them everything. And supermarkets account for the large majority of our business. We sell to Norway's 'Big 2' – Coop and BAMA. We also do some additional business through distributors for ingredients in meal kits, which are an emerging consumer trend here." In addition to the production area, the company has its own propagation department as well as sorting and packaging lines. It employs between 70 and 85 workers in the high season.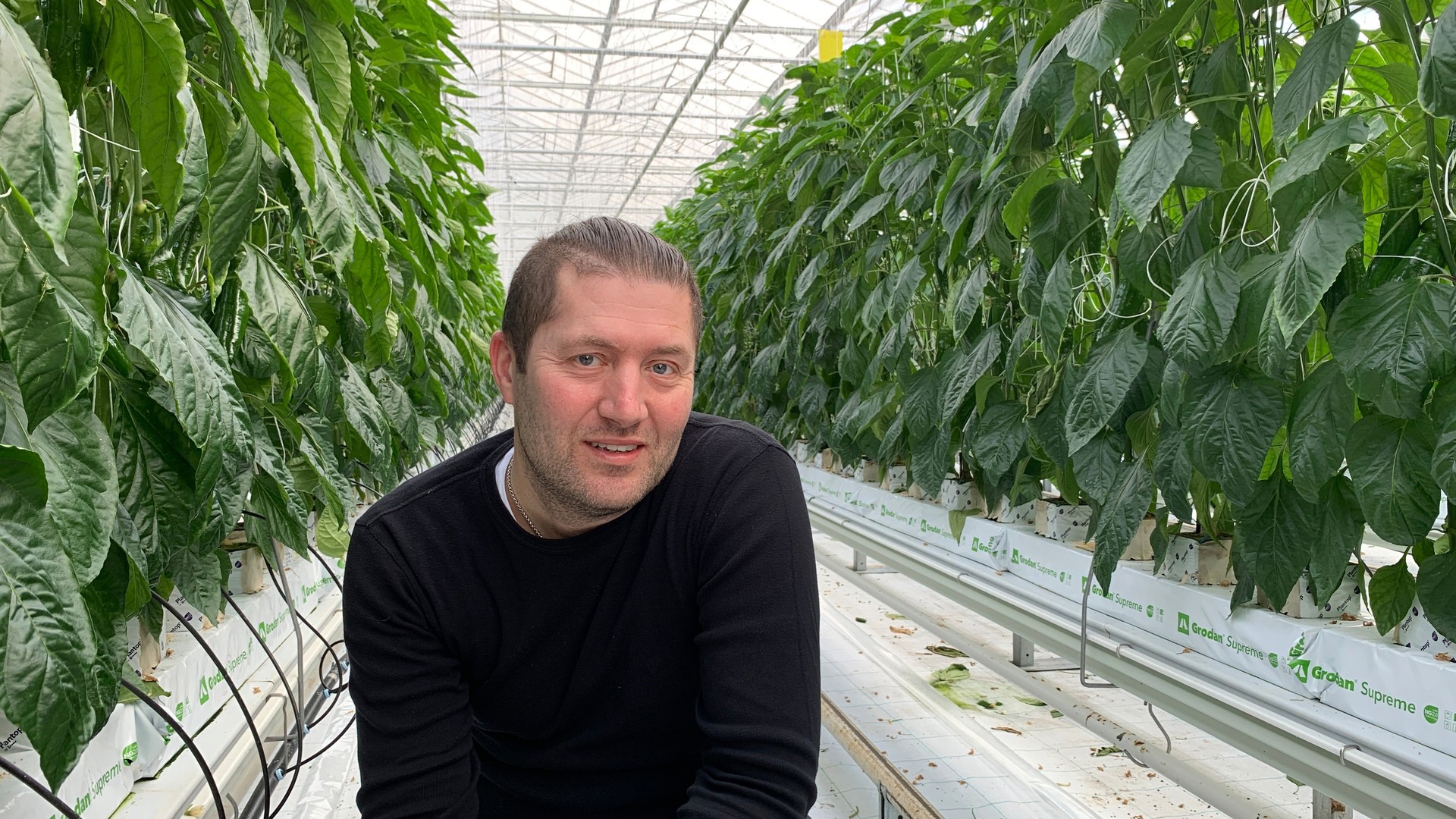 Environmentally friendly growing
The greenhouse is based in Kviamarka, Nærbø, which is in the Rogaland region, close to Stavanger. "Rogaland has a strong tradition of crop production. It's very flat and close to the coast. The climate is mild because the Atlantic cold stream ends further offshore, so it's ideal for growing fruit and vegetables," explains Hansen. Besides the favourable climate, Kviamarka was chosen for sustainability-related reasons; the greenhouse is located right next door to Tine, Norway's biggest dairy company, as part of an energy partnership. "We have an almost symbiotic relationship with Tine," he says. "Rather than generating our own heating, we use the surplus hot water from their production processes – it's around 55 to 65 degrees – in our pipes. We then deliver it back to them as cold water – at around 30 degrees – for re-use. We have a similar set-up with the CO2, which is produced by Tine's gas burner. Rather than it being released into the atmosphere, we use it in our greenhouse. So together we've created a circular system that's good for us and good for Mother Nature too."
Since the name 'Miljøgartneriet' translates literally as 'Environmentally friendly growing', perhaps it should come as no surprise that its sustainability initiatives extend even further than energy and CO2. "We're focused on controlling pests biologically and don't use any pesticides or fungicides. This results in 100% 'clean' and 'biological' production, without the use of chemicals. We're also the first greenhouse in Norway to achieve GLOBAL GAP certification," adds Hansen.
The growing season runs from the start of January until mid-November. "I plant the first tomato crop in Week 1 and don't finish planting until Week 9 because our propagation capacity is limited. I keep the temperature at around 15 degrees on average, until the conditions are right. Our climate is characterised by low-light conditions in the winter and early spring, but we don't have artificial lighting, apart from in the propagation area. After all, no light means no temperature either, which works better for us," he continues. "It takes around seven to eight weeks from planting to harvesting, depending on the variety, so we'll often be harvesting the first cherry tomatoes before we've put the last plants in!"
Number one choice for propagation
Miljøgartneriet uses substrates from Grodan in both the propagation and the production area. In propagation, the company recently changed to Grodan Pro blocks. Based on Vision technology, the strong stability and stick firmness of the substrate offers improved handling while retaining an optimal water and air balance in the block. "We work with various sizes, but it's the number one choice for my propagation conditions – i.e. lots of light and high temperatures – because it retains water a lot better than any other block," states Hansen. "The water retention is much more even throughout. With earlier versions, I had to weigh all the plants and give the ones at the edges extra water before spacing. Now, the blocks in the middle have the same moisture level as the ones at the edges, which is almost unique! That saves time in terms of watering, plus manual spacing is easier if the plants aren't soaking wet. Besides that, it reduces waste which means I can cut down on the amount of extra plants I produce; they are all usable."
Different irrigation mindset
For its tomato production activities, Miljøgartneriet used the Elite slab on 2 ha for the first time last year. This stonewool slab is based on Grodan's NG2.0 technology for even more uniform water distribution and better utilisation of the total substrate volume. The results were so impressive that Hansen has now switched to Elite for all his tomato crops: "I realised that the Elite was something completely different during the trial. However, it also requires a different mindset. You need to be willing to look into different irrigation strategies and experiment to find the optimal growing technique that works for you and your crops." Talking of experimentation, he is currently trying out a 7.5 cm-high version of the pro block instead of 6.5 cm and the results already look extremely promising. "Our plants for our late plantings are almost flowering on the second truss and can be up to one metre. Therefore, we need a bigger block that has room for more roots and provides better stability for the whole plant, both on the benches and in the greenhouse," he adds. "In this block, the roots are so uniformly distributed all the way through that if you turn it upside you can't see the difference between the top and the bottom. This creates terrific water retention, so we're getting continuous root production and good plant vigour, even later in the season, resulting in a healthier crop."

Outstanding control
"The Elite slab gives me such outstanding control in terms of watering, I've never seen anything like it! It evens out very quickly – you can water more frequently, start earlier, stop later, increase or decrease the watering from one day to the next because of changing weather and light conditions, and it doesn't affect the crop," continues Hansen. "The WC can be reduced to 30% in the heaviest crop – such as our cherry tomato crop – without having an EC above 6.5, for example. And if the EC is too high in the morning, you no longer need to flush to bring it down; you just use a smaller amount of water and reduce your drain a bit. For us, 30% of drain used to be common in the middle of the season but with Elite we've got it down below 20%. That's good for our own pocket in terms of less water and less fertiliser, and good for the environment too thanks to less waste. The stonewool products from Grodan are absolutely sublime in terms of the precision with which we can steer the crop," he concludes.