What's special about this experiment at Research Centre Hoogstraten?
"We're trying to make responsible and innovative use of natural materials like substrate and mineral fertilizers. So we're looking for new growing media and techniques to further improve strawberry cultivation. Most strawberry growers work with coco or peat substrate, which is very damaging to the environment from an ecological viewpoint. We also want to reuse the water needed for cultivation. But water that comes into contact with coco or peat becomes coffee-colored due to the high organic content, and is difficult to clean. Stone wool growing media could be a cleaner and more sustainable alternative."
What makes growing strawberries on stone wool growing media so different?
"Strawberry growers usually work with coco or peat substrate and won't easily switch to something different. That makes sense, as they first want to see positive results from stone wool growing media. Well, now we've got those results. And luckily, our manager has vast experience in growing peppers and tomatoes on stone wool, so I got a lot of support from him. He knows the precise differences between cocopeat and stone wool growing media with regard to irrigation and other nutritional needs. We also got a lot of help from the sensors from Grodan. These GroSens sensors gave detailed insight into what was going on in the stone wool substrates. The figures give you a good basis for steering cultivation."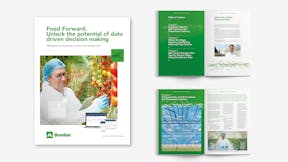 Where the magic happens: unlock the potential of data driven decision making
Data science and AI technologies present us with so many opportunities to collect and mine data in the greenhouse. This paper will help you begin your journey to get the best out of your greenhouse data. There's a bright future ahead!