Precision Growing enables professional growers to better control important growing parameters and to ensure the optimal growing environment for root development in stone wool. Grodan is the number one of the world in growing media solutions for the professional horticulture industry and has the purpose to "empower Precision Growing for everyone". This sustainable growing method holds promising potential in countries with high population growth where demand for resource-efficient food production is already high and will continue to rise in the future. Grodan hydroponics can be sited anywhere, including in urban areas that would otherwise be completely unsuitable for traditional soil-based production. Inner-city derelict land and even unused buildings such as old mills, factories and office blocks can now become unique growing areas for our food. The resulting reduction in food miles also has an additional sustainability impact on the food chain.
For consumers who want to grow food sustainably at home, Precision Growing offers them a successful, low maintenance and fun growing experience.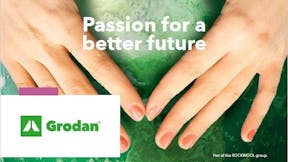 Passion for a better future
Our story about sustainable cultivation aimed to leave the world a better place in the future.