Hydroponic greenhouse cultivation is on the rise all around the world, in rich as well as poor countries. It provides part of the solution to providing future generations with healthy and safe food. It does this by making the most efficient use of scarce natural resources such as water and fertilisers.
Did you know that growing a kilo of tomatoes in the open field requires a whopping 60 litres of water, whereas in hydroponic greenhouse cultivation it is only15 litres? A further reduction to 4 litres per kilo can be made by using state of the art greenhouse technology. The savings come from more efficient water application methods, like irrigation measurement at the crop or drain water re-use.
Water efficiency awareness is still at a low level in most people's minds but the statistics above have even more meaning when you keep in mind that only 1% of the worlds fresh water supply is available for human consumption and of this 1% a staggering 70% is used to irrigate our food supply. Water use efficiency within our global food supply chains will have to dramatically increase in order to feed the worlds growing population.
To raise awareness of what is best practice in terms of water use in hydroponic greenhouse cultivation GRODAN and Priva have published the 'Best Practice Guidelines for Greenhouse Water Management'. In their experience one of the main reasons why greenhouse growers hesitate to recycle drain water today is because they are worried about complications. Our water management guide is designed to remove these worries and to enable them to profit from the many advantages that are on offer. These include the obvious cost savings on the use of water and fertilisers as well as improving their environmental image when water discharge is reduced, which can be used positively in the company's marketing and communications.
Another step towards improving sustainability is crop growth optimisation which can be achieved by aligning irrigation and fertilisation with the crop's needs. This is called precision growing to gain more crop per drop.
This year the United Nations' World Water Day's theme is waste water. We need to start thinking of used water as a raw material rather than waste. It is plain to see that greenhouse cultivation is a frontrunner in this area when reusing water and fertilisers.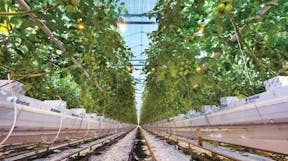 Read The Best Practice Guidelines for Greenhouse Water Management
The guide has been written to provide greenhouse owners and managers with an overview of current best practice.